Programs and Events for 2018 - 2019
General meeting dates and scheduled programs for 2018 - 2019. Meetings are held at the Richmond Masonic Center in Shoreline, just north of Seattle.
---
September 15, 2018 - Saturday, 10:30 am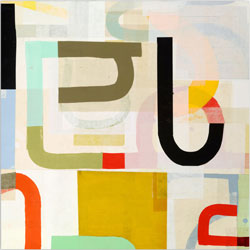 "I work with paper and paint and am drawn to certain materials, colors and textures. I love to combine disparate things to create a harmonious piece. I might use different kinds of textured paper, map fragments, the tissue paper of dress patterns, flight patterns, Braille paper, pages from old Sears Roebuck catalogues. I like the feel of paper; the translucency of it. I like its fibrousness; its organicity: the fact that someone mulched up all these ingredients with rice to make it. Pieces of paper are like a window to another world altogether. I can create a play between what's in the window and what I've done with it, how it interacts with other elements in the work. In that way paper can add another dimension to things. I can create texture with paper and overlap it to create different colors. Paper is a forgiving material—if something doesn't work it can be used in another way." Alfred will demo his art process at our September meeting.
See more at Alfred's website

November 13, 2018 - Tuesday, 10:30 am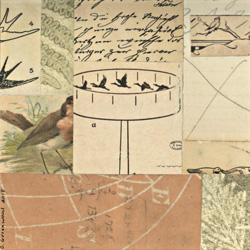 Deborah Greenwood, collage and book artist, loves working with used materials. When the overall mood of an object impacts her, she is moved to fuse it into art. By cutting and reassembling ephemera, new forms appear. She says the most striking thing about the majority of the materials she uses is their ordinariness. She remarks, "I am endlessly fascinated by the transformation that takes place in this process and the relationships that take shape." Papermaking has become part of her art process.
Read more about Deborah's art at this website.

February 19, 2019 - Tuesday, 10:30 am

April 16, 2019 - Tuesday, 10:30 am

June 18, 2019 - Tuesday, 10:30 am