Programs and Events for 2017 - 2018
General meeting dates and scheduled programs for 2017 - 2018. Meetings are held at the Shoreline Center just north of Seattle.
---
February 20, 2018 - Tuesday, 10:30 am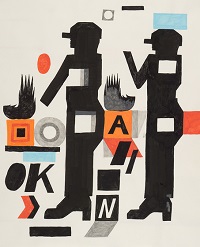 Warren Dykeman grew up in the desert of eastern Washington in Kennewick, just outside the Hanford Nuclear Reservation. Having lived under the shadow of America's atomic ambitions, Warren's work is informed by the Cold War era Americana that surrounded him in those formative years. His paintings and drawings draw upon elements of folk art, handmade sign lettering, digital art, and collage. Utilizing a variety of materials, Warren creates work that contains an intriguing awkwardness which produces a rhythm between contour, color, and mistake. With a nod to the past, Warren embraces the new technology of the digital age combining his experience as a graphic designer to create compositions that use vector style graphics as a jump off for his unique take on primitive folk art styles. Dykeman's paintings and drawings are mixtures of images from sketch books, hand lettering, digital art and collage.
See more at Warren's Website
---
February 23 - 25, 2018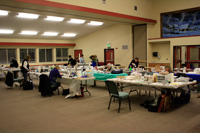 Our seventh annual Northwest Collage Society members retreat at Warm Beach Camp located outside of Stanwood, WA is scheduled! Join us from Friday lunch through Sunday lunch at a great facility with a large spacious conference room. Download sign-up form for more details. If you have futher questions contact Stacy at stacyhamm@ymail.com
Retreat Registration form
Pay now with Paypal

---
March 15, 2018 - Thursday, 10:30 am

Location: Honey Bear/Third Place Books Common Area, Town Center at Lake Forest Park. Bring your work, and a cover for your table spot. Food court available for lunch. Maximum 10 participants. RSVP: John Arbuckle at johnner55@yahoo.com
---
April 14, 2018 - Saturday, 10:30 am

Location: Renton, WA. Bring glue, scissors, your favorite supplies, and a lunch! Various papers, stamps, paint and stencils will be available. Maximum 6 participants. RSVP: Arlene (Brenner) Mraz at arlenebrenner@msn.com
---
April 17, 2018 - Tuesday, 10:30 am

Three demonstrations from local artists.
Becky will demo some basic Gelli techniques, using the Gelli Arts monoprinting plate, as well as share some of her collage examples. See how fun, easy, and surprising printmaking can be!
Robert will be demonstrating the transfer process that he uses in his work.
Vicky will be demonstrating Encaustic Printmaking - creating original one-of-a-kind prints with warmed beeswax and paper. I will be using a variety of paper and tools to create collage papers.
---
June 19, 2018 - Tuesday, 10:30 am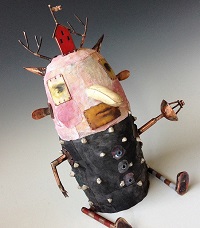 Rummaging around just under the surface is a favorite past time of mine. Interesting emotions live there which I love to dig up, take apart and reassemble. I'm looking for clarification or a new understanding of the transitions and contradictions that often lie within.
Capturing the complexity of emotion is important to me, and the environments where my figures reside have multiple layers in order to explore that complexity. Those layers include etched metal detail, enamel patinas, and found objects that suggest the old and familiar, but ask to be viewed in a new light. Hand-built ceramic faces allow me to bring the subtlety of expression to each piece.
Finally, there is the layer of playfulness. It is inspired by my love of old metal and tin toys and the need to lay humor right next to truth or fear in my work. My hope is with the playfulness there, the whole conundrum gets a chance to delight despite its complexity, and be just a little more understood.
See more at Morgan's website