Programs and Events for 2018 - 2019
General meeting dates and scheduled programs for 2018 - 2019. Meetings are held at the Richmond Masonic Center in Shoreline, just north of Seattle.
November 10, 2018 - Saturday, 1 - 3 pm

Location: Seattle, WA. Meetup at the new interbay Michaels. Bring glue, scissors, paper and your favorite supplies. RSVP: Carol Carolle, carol.carolle@gmail.com
---
November 13, 2018 - Tuesday, 10:30 am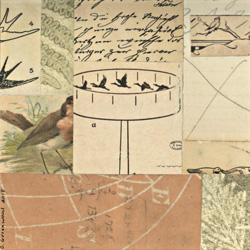 Deborah Greenwood, collage and book artist, loves working with used materials. When the overall mood of an object impacts her, she is moved to fuse it into art. By cutting and reassembling ephemera, new forms appear. She says the most striking thing about the majority of the materials she uses is their ordinariness. She remarks, "I am endlessly fascinated by the transformation that takes place in this process and the relationships that take shape." Papermaking has become part of her art process.
Read more about Deborah's art at this website.

February 19, 2019 - Tuesday, 10:30 am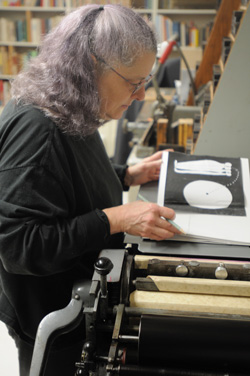 For Bonnie Thompson Norman books are a passion and a profession. She has been proprietor of The Windowpane Press, a letterpress printing and book arts studio, for nearly forty years as well as working as a hand bookbinder in a commercial bindery for about twenty years. Evenings and weekends, she teaches classes in printing and bookmaking. Her studio has many things found in a traditional print shop and bindery as well as a wonderful library. Work produced at The Windowpane Press reflect concerns about timeless and/or contemporary issues, offering challenging questions, provacative puns and inspiration in the form of broadsides and artist's books. These pieces are included in institutions and collections throughout the United States and in New Zealand, France and England. View website.

February 22 - 24, 2019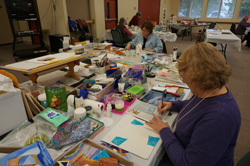 Our 8th annual Northwest Collage Society members retreat at Warm Beach Camp located outside of Stanwood, WA is scheduled! Join us from Friday lunch through Sunday lunch at a great facility with a large spacious conference room. Download sign-up form for more details. If you have further questions contact Stacy at stacyhamm@ymail.com
There is a $25 discount for early bird registrations that are paid in full. See details below.
Retreat Registration form
Pay now with Paypal

---
April 16, 2019 - Tuesday, 10:30 am

More details to come. Visit her website.
June 18, 2019 - Tuesday, 10:30 am