Programs and Events for 2017 - 2018
General meeting dates and scheduled programs for 2017 - 2018. Meetings are held at the Shoreline Center just north of Seattle.
June 20, 2017 - Tuesday, 10:30 am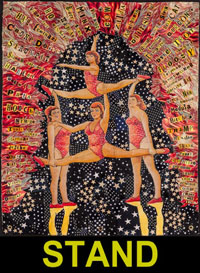 We listened to our members! Deborah Faye Lawrence was such a big hit when she spoke at a NWCS meeting some years ago, that we are thrilled she agreed to join us again. Deborah combines confessional, autobiographical and social matters in collage works that beg the viewer to take a closer look. She manages to convey tough, maybe even controverisal issues, with boldness and a dash of humor that starts intriguing conversations.

"I make artworks which comment on American life in ways that are serious and sardonic. I employ cut and paste as a meditation, to focus my mind on something attractive and manageable. This contemplative practice may be preventing my dissolution into neurotic, phobic, narcissistic paranoia. What else can one do, when one's compulsion to decorate is accompanied by an abject horror of the status quo? In the studio, I fondle and wrestle with cut-outs as I try to answer questions like "What makes all those power-mongering empire builders so #!!!%@&= diabolical?" If my sense of humor prevails, the pieces of paper become better organized, and my own bilious misanthropy is reconciled with a little optimism about the human race. Some people call this exercise "satire." I call it Sanity Management. It has helped me since 1976, when I began to take history and politics seriously. Then I became an educator, and realized didacticism makes art more meaningful and beautiful to me. I wish everyone would try it."
June 24 - 25, 2017 - Saturday, 10-6, Sunday, 10-5

The "Collage Room" is a popular event at the Shoreline Arts Festival. Children and adults alike enjoy the magic of creating with collage. The NWCS introduces collage by providing materials, examples, and encouragement! Materials may be donated at the June meeting or sign up at the meeting to volunteer for either Saturday or Sunday sessions. Contact Judith Noble at wiessjg@earthlink.net for additional information.
Shoreline Arts Festival

September 19, 2017 - Tuesday, 10:30 am

November 18, 2017 - Saturday, 10:30 am